Talati Mantri Exam Syllabus Pattern 2022 And Previous Model Papers. The Gujarat Panchayat Services Selection Board has recently decided to recruit candidates to Talati Cum Mantri positions. As per the advertisement of the Talati Mantri Bharti, it is one of the most important recruitments from the Gujarat Panchayat Seva Pasandgi Mandal for 3200 posts. The candidates who have applied for the recruitment will have to prepare well for the exam. For this purpose, the GPSSB Talati Cum Mantri Syllabus can be utilized as the exams question paper is prepared as per the syllabus provided by the organization. Old Papers And Answer Download
Read Also-Gujarat Talati Bharti 2022 | Apply @ojas.gujarat.gov.in
The details of Talati Mantri Syllabus in English and Gujarati can help candidates from the background of both mediums. So were are trying to give you them in both languages. This will be of very much great help to the candidates to prepare for the written examination. The information available through this Gujarat Talati Cum Mantri Syllabus can help you make a plan to prepare for the written exam. We advise all the contestants to follow the syllabus pattern for easy preparation. Contestants need to know the topic marks and start preparation.
GPSSB Talati Mantri Syllabus 2022

Each and every topic from the topics available in the Talati Mantri Exam Syllabus Pattern 2022 should be carefully gone through. This can help them in knowing to analyze the topics they are good at and not good at. By this candidate who is going to prepare for the examination can stress the topics they are weak at from the Gujarat Talati Mantri Syllabus Pattern Pdf 2022. You can know more about the topics you have to prepare for the examination from the sources available on the website of the commission.
OJAS Gujarat Talathi Mantri Exam Overview
Name of the Organization
Gujarat Panchayat Services Selection Board or Gujarat Panchayat Seva Pasandgi Mandal
Post Name
Talati Cum Mantri
Total Posts
Updates Soon
Selection Process
Written Examination and
Interview
Category
Syllabus
Release of Admit Card
Updates Soon
Official Website
gsssb.gujarat.gov.in
Gujarat Panchayat Seva Selection Board Take MCQ Type Written Test For Talati. Here Is the Subject Vise Syllabus of Talati Exam 2022
GPSSB Talati Mantri Exam Pattern 2022
Talati Syllabus 2022 in Gujarati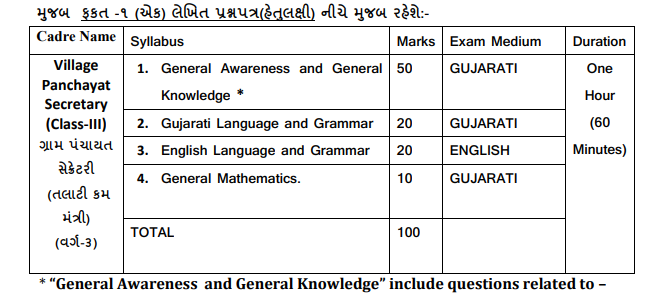 SUBJECT NAME
MARKS
EXAM MEDIUM
TIME
General Awareness And General Knowledge*
50
GUJARATI
60 Minutes (1 કલાક)
Gujarati Grammar And Language
20
GUJARATI
English Grammar And Language
20
ENGLISH
General Mathematics
10
GUJARATI
Total Marks
100
SUBJECT NAME
MARKS ALLOCATED
General Knowledge
35 Marks
Gujarati Grammar (Vyakaran) &
Gujarati Literature (Sahitya)
35 Marks
English Grammar
15 Marks
Mathematics and Reasoning
15 Marks
Details Topics to Cover Under Gujarat Talati Mantri Syllabus 2022
Read Also-Talati Mantri Bharti 2022 Recruitment Notification Apply 3437 OJAS Gujarat GPSSB Talati Cum Mantri Jobs Bharti
General Knowledge:–
Current Affairs
Gujarat-India No Itihas (History)
Geography (Bhugol) of Gujarat & India
Art and Heritage Culture of Gujarat/India
Science General Knowledge
Computer General Knowledge
Sports General Knowledge
Yojana
Bharat Nu Bandharan (Indian Constitution)
Economy, Environment & Indian PolityEconomy and Development of Gujarat.
Issues of Development and Change.
Social Structure, Issues, and Public Policies.
Socio-Cultural History of India and Gujarat.
Overview of the Indian Constitution and Politics
GPSSB Talati Mantri Syllabus for Gujarathi Grammer
Samas
Alankar
Kartari-Karmani Vakya
Chhand
Kahevat and Rudhiprayog
Jodani
Nipat
Sangana
Krudant
Sandhi Chhodo-Jodo
Vibhakti (Vakya Prakar)
Gujarat's Famous Poet Upnam
Navalkatha Na Lekhak
Kavya Na Lekhak
Famous Publications
Ekanki Natako
Born Places of Poet and Writer
Gujarati Bhasha Na Khyatnam Grantho etc.
Maths and Reasoning Syllabus for GPSSB Talati Mantri Examination
Shapes and Mirror
Images & Clocks, etc.
Analogies
Analytical Reasoning
Number series
Letter series
Odd man out
Coding-Decoding
Alphabetical and Number Series
Mathematical Operations
Relationships
Jumbling
Venn Diagram
Data Interpretation and Sufficiency
Conclusions and Decision Making
Similarities and Differences
Analytical Reasoning
Classification
Directions
Syllabus of English Grammar for Talati Mantri Exam 2022
Tenses
Antonyms
Synonyms
Singular and Plural
Idioms and Phrase
Pick the Odd One Out
Error Correction Exercises
Sentence Rearrangement
Word Formation Exercises
Since and For Exercises
Direct-Indirect Speech
WH Questions
Degrees of Comparison
Word Order Exercises
Question Tag Exercise
Choose The Correct Sentence
Analogies Exercises
Sentence Rearrangement
Opposite Gender Exercises
Talati Cum Mantri syllabus pdf download: Click Here
So with the table above you have now come to a conclusion on the Gujarat Talati Mantri Syllabus Examination pattern. So you have to now prepare well for the exam by covering all these topics. The Talati Mantri Bharti Advertisement will also have information on the topics to cover for the written exam. This Written Test will be conducted either through the online test or through omr test. The decision will be made by gathering the information on the resources available to conduct this exam.
In the written test .30 marks are deducted from the total marks obtained for each question you have answered wrong in the examination. So candidates have to prepare to attend the questions they are completely aware of.
Talati Cum Mantri question paper pdf download Here